Thursday
23 June
8:30pm
£8.00

OR
£6.00
advance
booking
Stanley Accrington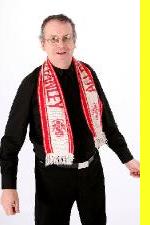 <!align="right">

Lymm Folk Club's festival opener for 2011 is Stanley Accrington! Stanley is well known for his somewhat off-the-wall humour, and his ability to write brilliantly topical songs at very short notice!

Stewart opened Lymm Festival 2011 for us, followed by a quick song from Bernard whilst Nelson Peach hurriedly swapped their Bollin Morris kit for 'civvies' - Bollin had been outside dancing in the street Food Fest!

Stanley then took to the stage and sang 'Out on a Lymm' - specifically written in honour of this year's festival! He had the audience in stitches for most of the evening, apart from during a a couple of poignant, serious songs that show his great insight into the human psyche.

A good sized audience helped generate a festival atmosphere, giving us a great festival opener!

Anthony John Clarke writes: Despite a diversion from the M6 into Lymm (which we ignored) and despite, as Mark Knopfler wrote in the late seventies "competition in other places", we made it to the Spread Eagle at Lymm for what can only be described as the Accrington Master Class. From the National Census to the Monopoly Board and back via Anagrams, Wimbledon and Sellafield, Stanley Accrington just has what it takes to make you laugh. Top notch entertainment from the master. Glad we were there and my silly attempt at anagramming Accrington Master Class ended up pathetically as Norms Cats Grins Lecc.... I will leave that to the man who always can and that man is Stan!

<!FRIDAY>
14.00 - 18.00
(free)
PLEASE NOTE:
This event
takes place at
Lymm Rugby Club!
---
Acoustic Music Concert
We will have twenty minutes each from our pre-booked performers, with a raffle break somewhere!
As with the Songwriting Competition, we will draw the running order by 'raffle' as each slot comes up. This is to discourage people from only turning up in time for their own slot, as no-one will know when their turn will be. Quite simply, anyone who isn't available when their slot is drawn forfeits their opportunity!
We will be at the Rugby Club from around 1.00pm setting up the PA, but there will be no sound checks beforehand - the sound check is part of your slot. Again, this is to discourage people from extravagant requirements - there will be a vocal microphone, instrument microphone, DI box and XLR line to choose from, which should be more than adequate as all this year's performers are soloists.
This year, the audience will be asked to vote for their favourites, and the 'winner' will be offered a club gig on Thursday August 4th 2011 - non-negotiable, so if you're not available on that date we'll simply ask the runner-up, and so on! The audience will vote for three in order of preference, the first choice being given three points. Hopefully this should avoid a tie-break situation! A tie may be settled by the actual number of votes a performer has received in total, or on the whim of the Organiser...!
Who is on the list?
Pete is the embodiment of the traditional English singer-songwriter Ė a troubadour with a story to tell and a song to sing. In fact, he's more English than warm beer, fish and chips, high petrol prices and year-round rain!

He learned his trade in the folk clubs of his native North Staffordshire, writing and singing about the many aspects of life's journey; stories and songs about travelling, love, work, faith and everyday hardships.

Tales of austerity and struggle that in lesser hands could veer towards the melancholy, but Pete is made of sterner stuff! Armed with guitar and bouzouki, he breathes an air of hope and optimism into everything he performs!
Doreen Lehmann

Two years ago I thought I might try to write a poem or two and now I love writing poetry. Formerly a Head of an Infant & Nursery School, I am now retired and see the world quite differently.

I belong to the Warrington Poetry Group, which meets each month. We share our poems and learn from each other. In the same way Lymm Folk Club has welcomed me as a friend and poet. Such a special privilege on Singers' Night to bring my poems to life.

Hopefully I shall continue to improve and give pleasure to anyone who is happy to listen. - Dee Lehmann
John Muskett

John took up the guitar during the skiffle craze, rejecting piano lessons in favour of playing football, not a smart decision for someone gangly, poorly coordinated and with bad eyesight. Skiffle led to jazz, blues and folk music, and John also learned the tenor banjo and the double bass; he still plays the latter regularly in jazz groups.

The non-doctrinaire policy at Liverpool's Washhouse Club influenced Johnís repertoire, and he is likely to choose material from music hall, Tin Pan Alley and the blues as well as traditional and modern folk sources. He believes it was Pete Seeger who said: "Itís all folk music Ė I never heard a horse sing."
John Condy

John Condy has been attending folk clubs on a regular basis since 2006. His repertoire consists mainly of contemporary songs from both sides of the Atlantic, though he has been known to play a few traditional songs - and even a few self-penned ones!!

He plays guitar, slide guitar, harmonica, mandolin and 5 string banjo. He also played bass on a couple of tracks on Jean Finney's recent Jigsaw album project and contributed backing vocals to the song 'One Day The Sun's Gonna Shine' on ZoŽ Mulford's album, Bonfires. He was honoured to play harmonica with ZoŽ on 2 songs at the launch gig for that album in 2010.

He is however best known as one half of Pepper Street, one of the resident acts at Sale Folk Club and regular performers at the Saturday guest nights there. This entertaining and dynamic duo have an upcoming guest night at the Marquis of Granby (formerly the Ring O Bells) Folk Club and will also be appearing at several charity events during 2011.
Andrew Walpole

Andrew was our second Lymm Songwriting Competition winner back in 2008, and currently has quite a few projects on the go.

Although based in London, he occasionally disappears off up to Scotland for recording sessions... maybe he'll explain a little more of what's going on with that!!
ZoŽ Mulford

Award-winning American songwriter Zoe Mulford is now based in Manchester, England. She performs in both the US and the UK.

"Her lyrics are intelligent, thought-provoking, and so warm that they demand that you get to know this person better." - Bob Gramann, Fredericksburg Songwriters' Showcase
FolkLaw

Frantic fiddling and earthy vocals from the heart of the Cotswolds!

FolkLaw brings some exhilarating songs and music inspired by 10 years on the road in Europe and North America. FolkLaw's music is guaranteed to get your feet tapping and your mind thinking on subjects from the environment and relationships to politics and love. FolkLaw's latest album 'Nations Pride' is out now - described as 'fantastic' by Stroud FM and received a glowing 3 star review in Rock-n-Reel magazine!

Prior to forming FolkLaw, Nick played with the Bleeding Hearts, fiddling for his supper at festivals and venues across Europe and supporting acts such as the Oysterband, Shane Macgowan and the Levellers.

Nick will be presenting the FolkLaw 'Solo Outfit' this afternoon - but don't worry he'll still squeeze in some irish and bluegrass fiddle!
Charlotte Peters Rock

Charlotte Peters Rock, who writes about what she knows, what she discovers and what imagination can link. As a poet-performer, songwriter-singer, Charlotte also dances - or claims to. It matters not; dancing is something which pleases.

It's been a while since Charlotte visited Lymm Folk Club - she is always guaranteed to raise a smile, or even an eyebrow!
Mike Selway

Born & brought up in Sheffield in 1941 so will reach the magic 3 score & 10 in August

Got first guitar for Christmas in 1956. Formed a skiffle group at school, said group appearing at local youth clubs. Joined a pop band as guit/voc/blues harmonica in 1962 often appearing at same pub venues as Joe Cocker (who called himself Vance Arnold in those days) & Russ Abott (then of the Black Abotts).

Got into folk in 1965 & appeared regularly at the 'Queens' folk club along with the late Tony Capstick &, believe it or not, Maria Muldaur who was at Sheffield Uni. Became resident singer at the 'Pig o' Lead' folk club in Stoney Middleton where we had such illustrious guests as Martin Carthy, Martin Wyndham Read & the Yetties.

Have written about 30 songs many of which I still enjoy performing. I'm also constantly trying to add to my repertoire of some 600 songs.

Current musical ambitions - would still like to write a hit song. The Interweb (e.g. Facebook) does make that a more realistic possibility.
---
Evening
Concert
8:00pm
£10.00

OR
£8.00
advance
booking
PLEASE NOTE:
This event
takes place at
Lymm Rugby Club!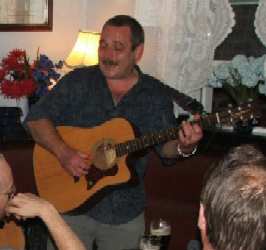 Geoff Higginbottom
The Time Bandits
<!ALL TICKETS SOLD!>
Tonight's concert is a 'double header'!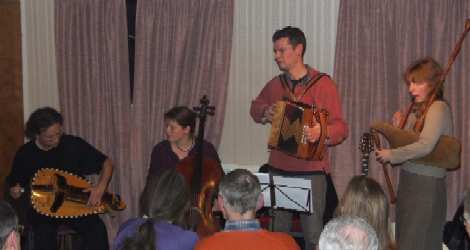 Manchester-based Geoff Higginbottom, often seen at festivals as a soloist or as one third of 'Three Sheets to the Wind' (with Keith Kendrick and Derek Gifford), is playing for the first time at Lymm Folk Club. He sings a wide variety of traditional, contemporary and self-penned songs, sometimes unaccompanied. He has a powerful, distinctive voice that is guaranteed to get you joining in with the choruses!
The Time Bandits are no strangers to Lymm, and are established favourites. We've had a few requests to put them on our 'wish list', so here they are! Primarily an instrumental band, they feature a variety of instruments, some rather unusual.